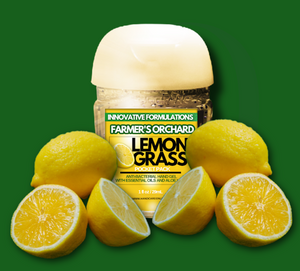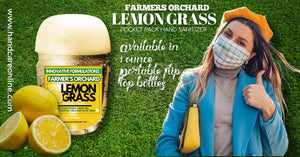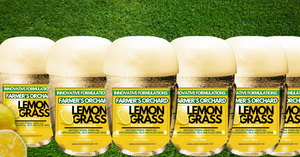 5, 1oz bottle of Farmer's Orchard Hand Sanitizer Lemon Grass
Great for traveling, fits in the pocket
Instant Alcohol Gelled Hand Sanitizers are alcohol-based hand sanitizer formulated to be used without water or towels. Farmers' Orchards follows the CDC's (Center for Disease Control) & WHO's (World Health Organization) guidelines for preventing the spread of microorganisms that are of public health concern. Farmers' Orchards Hand Sanitizes are effective in preventing the spread of SARS COVID-19, H1N1, swine flu, MRSA, and other disease-causing microorganisms.

Farmers' Orchards Alcohol Gelled Hand Sanitizer:
Kills 99.99 % of gems in as little as 15 seconds.

Leaves skin feeling fresh without any residue.

Is a 70 % Alcohol-based hand sanitizer which is recommended by the CDC

Requires no water or towels for usage

Contains emollients, vitamins, and aloe to moisturize and condition skin

Is an FDA registered product

USDA E3 rated for use as a no-rinse hand sanitizer in food plant environments

Available in and in-stock in a variety of sizes

Can be used in areas where soap and water are not available
THIS PRODUCT IS CURRENTLY IN STOCK: Currently due to the Global Pandemic many companies have experienced low supplies of both alcohol and alcohol-based hand sanitizers. We will commit to our customers to notify you via our website when our supply is low or depleted and not in stock. 
PLEASE NOTE:  ALL HAND SANITIZER SALES ARE FINAL. At this time we CAN NOT provide any refunds on Hand Sanitizer purchases as these products are in high demand. Please only order what you need!