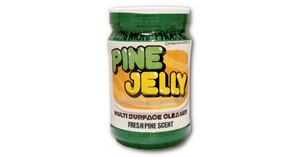 Pine Oil has long been known as a naturally derived disinfectant and cleaner that comes from comes from natural pine tree needles, including the Dwarf pine, Long leaf pine, Scotch pine, Christmas trees and Norway pine.
When protecting family and co-workers during the pandemic it is important to look for products that are (1) naturally derived & good for the environment (2) biodegradable (3) disinfectant naturally (4) can provide top cleaning abilities (5) are economical and (6) are easy to use.
Georgia Pride's PINE JELLY is manufactured using natural biodegradable pine oil and is the perfect product choice for cleaning and disinfectant surfaces like door knobs, desks, table tops and hard surfaces.
Georgia Prides PINE JELLY is Super Concentrated and comes in a concentrated gelled formula. Pine Jelly is some 10 to 20 times more powerful than typical pine oil cleaners found at big box stores.
Georgia Pride Pine Jelly is extremely economical in used dilution strength:
PINE JELLY is an extremely effective at solubilizing soils and degreasing surfaces where heavy soils while always leaving behind a pleasant clean pine aroma