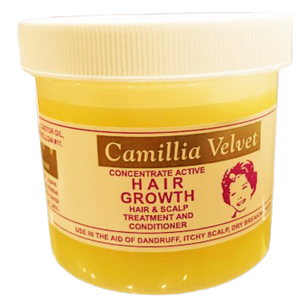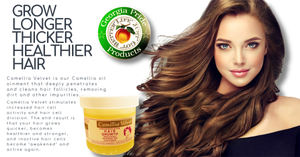 12oz of our Camilla Velvet Oil
Camilla Velvet is formulated using "Tsubaki" or "Japanese Camilla Oil", which is an edible, pale amber yellow-green oil with a sweet, herbal aroma. It is cold-pressed mainly from the seeds of the Camellia flower.

Camilla Velvet is a great source of unsaturated fats which encourages hair growth and increases microcirculation on the scalp surface. Camilla Velvet consequence stimulates hair bulbs effectively increasing hair length and growth.

Camilla Velvet is rich in antioxidants, vitamins, and essential fatty acids.

Camilla Velvet is used on hair surface and helps to condition the hair shaft, stimulate scalp circulation, and promote healthy hair growth by preventing breakage and split ends.

Camilla Velvet has a moisturizing effect for hair follicles and nourishes dry hair, split ends, and dull strands.

Camilla Velvet oils improve hair appearance and extend the natural look of healthy hair.

The key features of Camilla Velvet Oil treatment:

Camilla Velvet fosters the work of hair bulbs and accelerates hair growth.

Camilla Velvet effectively counteracts excessive hair loss by enriching hair follicles.
Camilla Velvet is bactericidal which is why it deals with dandruff.
Camilla Velvet cleanses the scalp.
Camilla Velvet leaves skin soft, smooth, and shiny.
Camilla Velvet intensifies natural hair color.
Camilla Velvet soothes and reduces inflammations.
Camilla Velvet nourishes, reinforces, and regenerates.