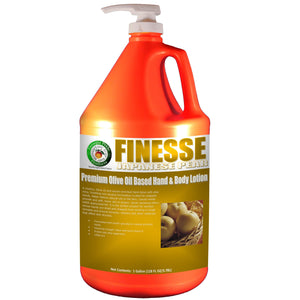 1 Gallon of our Finesse (Olive Oil Lotion) in a Flat Head Gallon
A creamy, Olive oil and lanolin-enriched hand lotion with aloe vera; Soothing non-alcohol formulation is ideal for chapped hands. Helps restore natural oils to the skin; Leaves hands smooth and soft, never oily or greasy; Quickvanishing lotion; USDA authorized-E4. 
It is the perfect product for workers whose hands are dried and chapped from working in tough climates and around solvents, cleaners, and other materials that affect skin dryness. 
• Formulated with lanolin especially for cracked and dried hands
• Industrial strength- lotion with extra vitamin E
• Protect skin after application
• USDA A-4