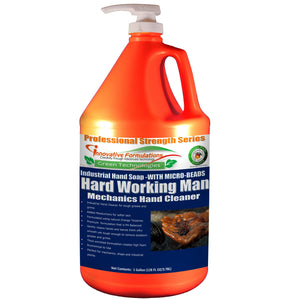 A liquid hand cleaner for industrial applications;  It puts industrial cleaning power in the palm of your hand. Fortified with pumice for powerful cleaning action. Tackles the toughest jobs, yet is easy on the hands. Super enriched with emollients, solvents, and detergents. Removes stubborn industrial soils inks, resins, paints, adhesives, tar, carbon, and asphalt instantly! Light green, viscous liquid which imparts a pleasant almond fragrance to the hands
Formulated to be used with or without water 
Industrial strength- tough on dirt yet mild on hands
Contains added lanolin to moisturize the skin
Available in Portable Sizes
Fortified with Emollients 
Formulated with Vitamins
Perfect for Garages, Mechanic Shops, Industrial Facilities, Farms, Auto Repair Shops, etc.
How To Use