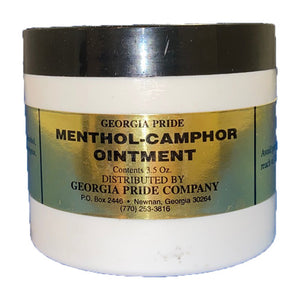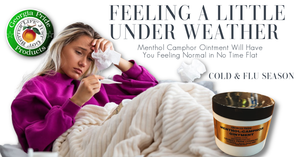 3.5 oz of Georgia Pride's Methol Camphor Ointments
Menthol Camphor Ointment & rub helps relieve the congested feeling of a chest cold and suppresses the accompanying cough.
RELIEVES CHEST CONGESTION: Massage this ointment onto your chest, neck, and bottom of your feet to help relieve a congested chest and breathe easier. The natural ingredients relieve congestion and suppress your cough from the common cold allowing you to get a full night of sleep.
NATURAL INGREDIENTS: Georgia Pride Products uses all-natural ingredients. This soothing chest ointment is formulated with camphor and menthol which helps to relieve chest and nasal congestion. You will breathe easier and cough less when using this rub.
HOW TO USE: Apply thinly and evenly to the affected area, not more than 3 to 4 times daily. Rub or massage into skin until solution vanishes. Make sure to get at least 8 hours of sleep when sick so your body can rest and recover.
GEORGIA PRIDE PRODUCTS PROMISE: At Georgia Pride Products, we avoid using harmful ingredients in our formulas, like parabens, dyes, phthalates, and formaldehyde. Georgia Pride is proudly certified and recognized by Leaping Bunny as a brand that doesn't test on animals. Our Menthol Camphor Ointment is Leaping Bunny Certified, we never test our products on animals