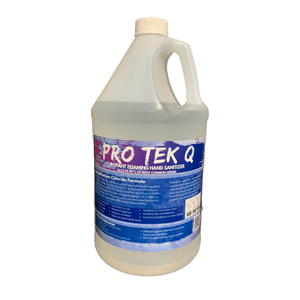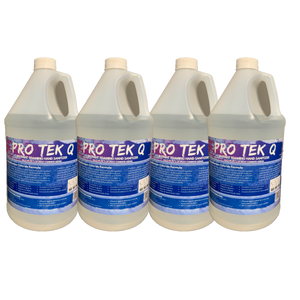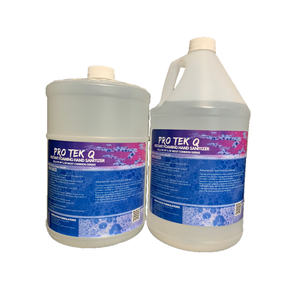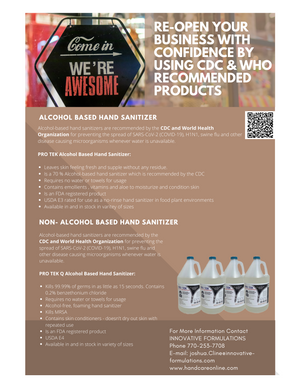 1 Gallon of our PRO TEK Q  (Foaming Non-Alcohol Based Hand)
PRO TEK Q is a Non-alcohol foaming hand sanitizer. PRO TEK Q follows the guidelines set out by the CDC (Center for Disease Control) and WHO (World Health Organization for the prevention and spread of SARS, CoV2 (COVID-19, H1N1, Swine Flu, MRSA and other disease-causing microorganisms. PRO TEK Q has been formulated to be used without water or towels
PRO TEK Q represents the latest innovation in hand sanitizing technologies.:
PRO TEK Q

 

is a non-flammable, non-alcohol based hand sanitizer that will not dry out the skin.
PRO TEK Q

 

kills 99.99 % of germs in as little as 15 seconds
PRO TEK Q

 

contains benzethonium chloride and will not dry out skin like most alcohol-based hand sanitizers
PRO TEK Q

 

is alcohol-free
PRO TEK Q

 

is a foaming sanitizing product and is available in foaming bottles and for uses with our automatic dispensers
PRO TEK Q

 

is formulated with skin conditioning agents and emollients to keep skin from drying out
PRO TEK Q

 

is an FDA approved product
PRO TEK Q

 

is USDA and NSF E-4 approved product
PRO TEK Q

 

is available in a variety of convenient sizes
PRO TEK Q

 

is an essential product for Hospitals, EMT units, Nursing Homes, Restaurants, Food preparation facilities, and all essential businesses
In the United States, hospital patients get nearly 2 million infections each year. That's about 1 infection for every 20 patients. Infections that patients get in the hospital can be life-threatening and hard to treat. Hand hygiene is one of the most important ways to prevent the spread of infections.

Healthcare providers should practice hand hygiene at key points in time to disrupt the transmission of microorganisms to patients.

Patients and their loved ones can play a role in helping to prevent infections by practicing hand hygiene themselves as well as asking or reminding their healthcare providers to perform hand hygiene.